What goes where
There are 4 types of sorting bins:
Blue box
Yellow bin
Green cart
Garbage
Refer to the tabs below to learn more about what goes where in each of these bins.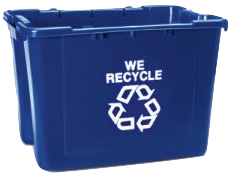 Paper, newsprint, cardboard etc.
Paper recycling must be bundled or placed loose in a blue box, cardboard box, paper bag or other reusable open top container. Shredded paper is acceptable for collection in clear plastic bags.
Your blue box is collected every two weeks the same day as your green cart. Containers cannot exceed 50 lbs (23 kg).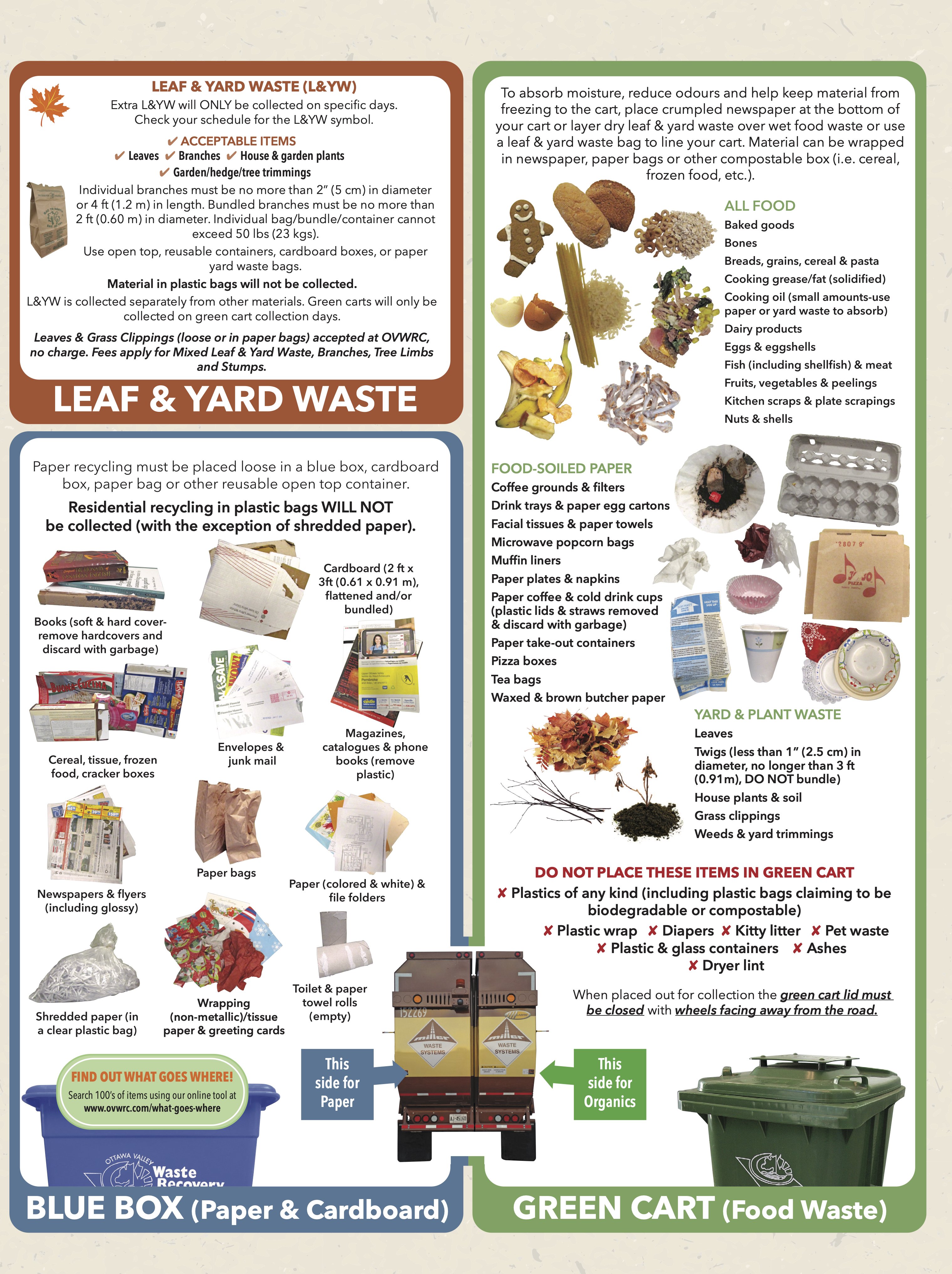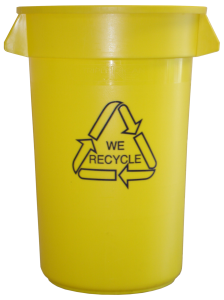 Containers, plastics, glass, metal etc.
Plastics, glass and metal must be placed loose inside your yellow bin. Rinse containers and remove all lids. Extra recycling can be placed inside an open top, reusable container beside your yellow bin (i.e laundry basket, Rubbermaid container, etc.). Recycling in plastic bags will not be collected.
Return all liquor & wine bottles (glass and/or plastic), aluminum cans & tetra packs (soft sided containers) purchased at the LCBO to the Beer Store for a refund.
Your yellow bin is collected every two weeks the same day as your garbage.
Containers cannot exceed 50 lbs (23 kg).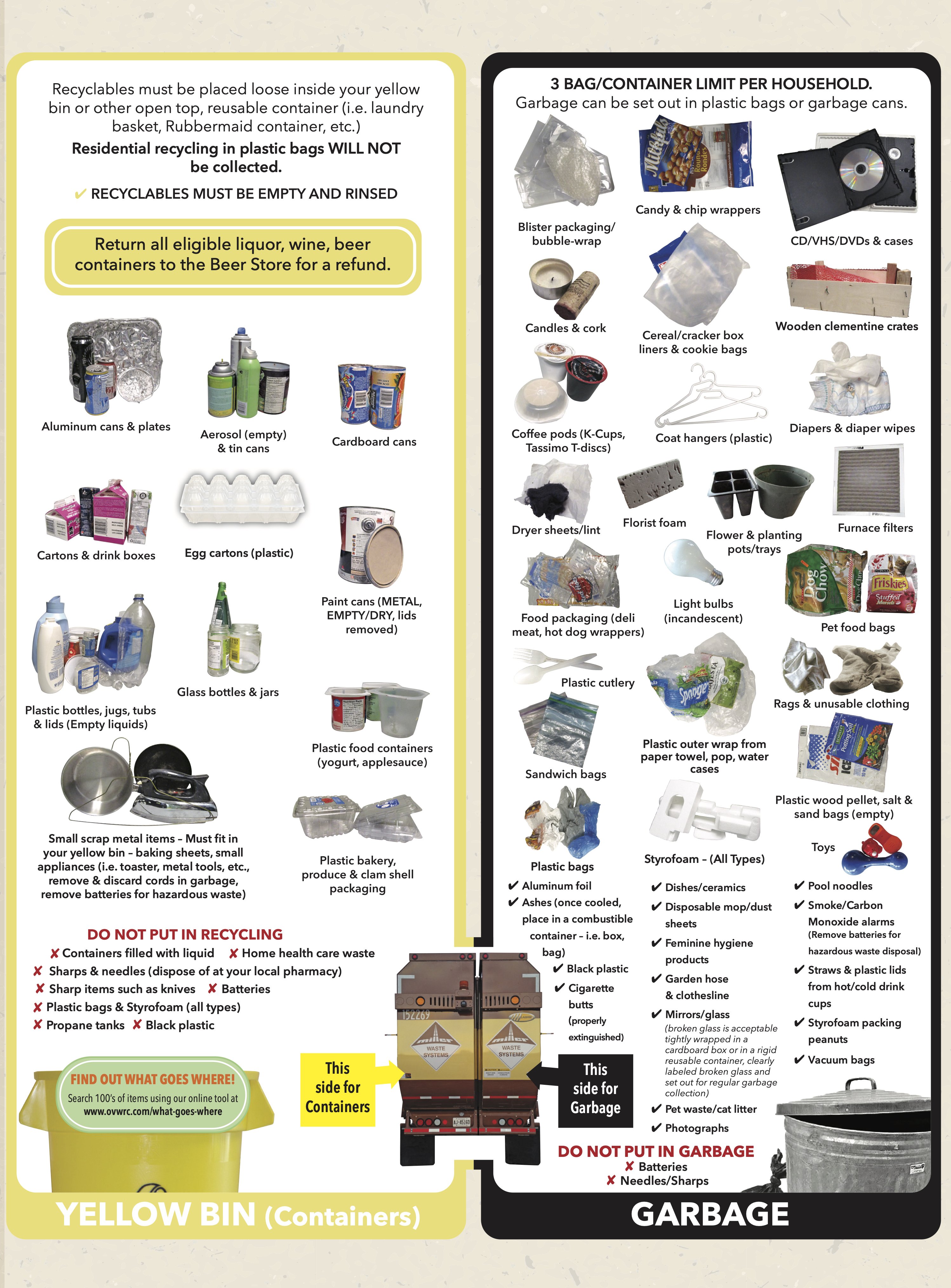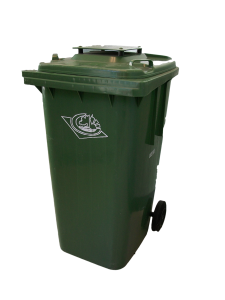 Organics, household and yard waste.
To absorb moisture, reduce odours and help keep material from freezing to the cart, place crumpled newspaper at the bottom of your cart or layer dry leaf & yard waste over wet food waste. Food waste can be wrapped in newspaper, paper bags or other compostable box (i.e. cereal, frozen food, etc.).
NO PLASTICS: Plastics of any kind including compostable and biodegradable plastic are NOT acceptable in the green cart.
Green carts are collected the same day as your blue box. LV residents have weekly green cart collection starting the end of May to the end of September (please refer to the collection schedule for details).
Learn more about backyard composting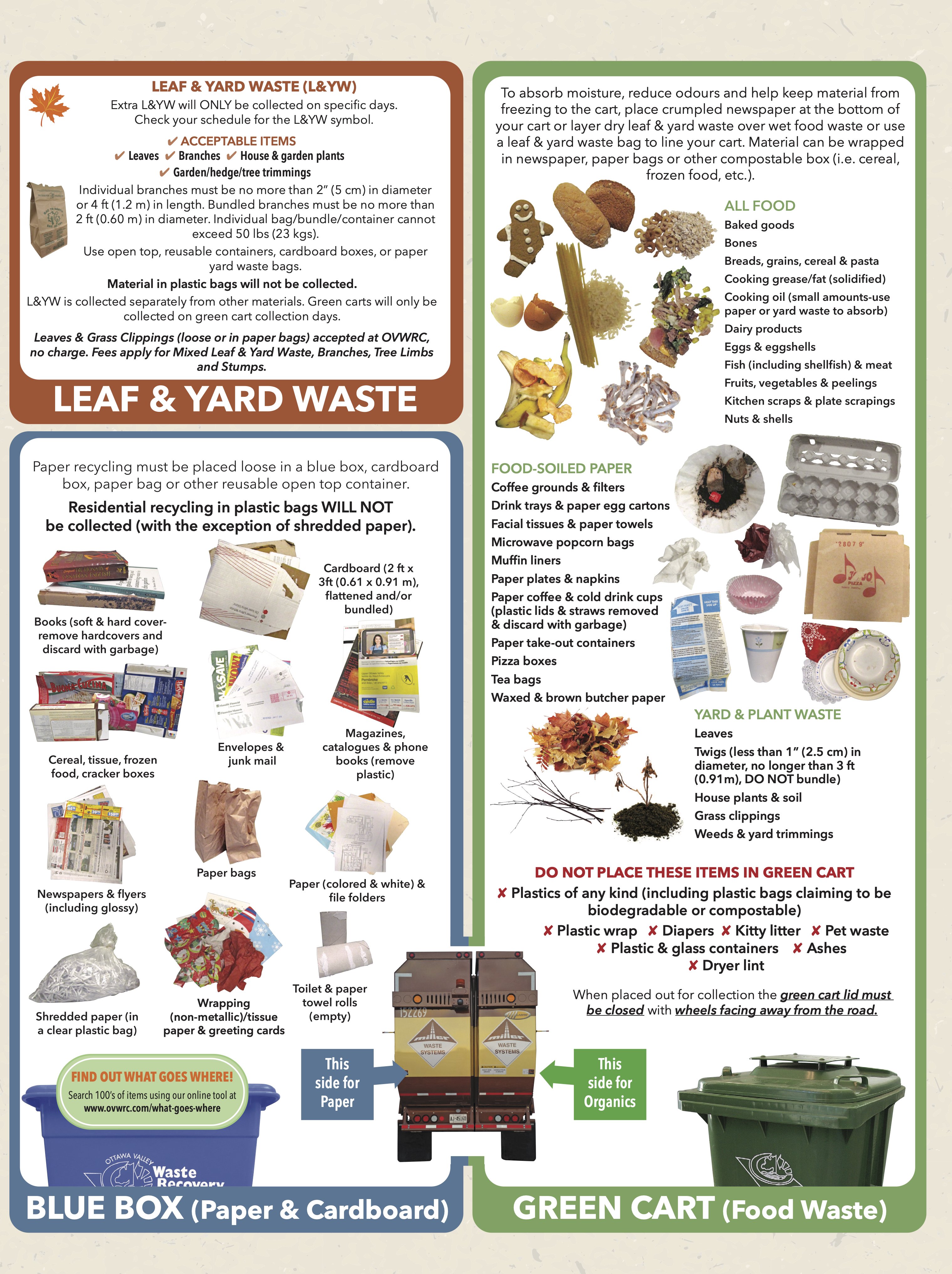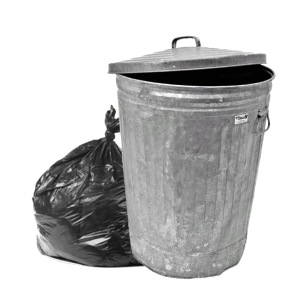 Garbage can be placed inside plastic bags or a garbage can. Garbage is collected every two weeks the same day as your yellow bin. Containers cannot exceed 50 lbs (23 kg).
Bag Limits:
LV residents: 3 bags per garbage collection day
Extra Garbage? The OVWRC accepts items for disposal. Minimum tipping fees do apply. Click here for a detailed list of tipping fees or call 613-735-7537 for more information.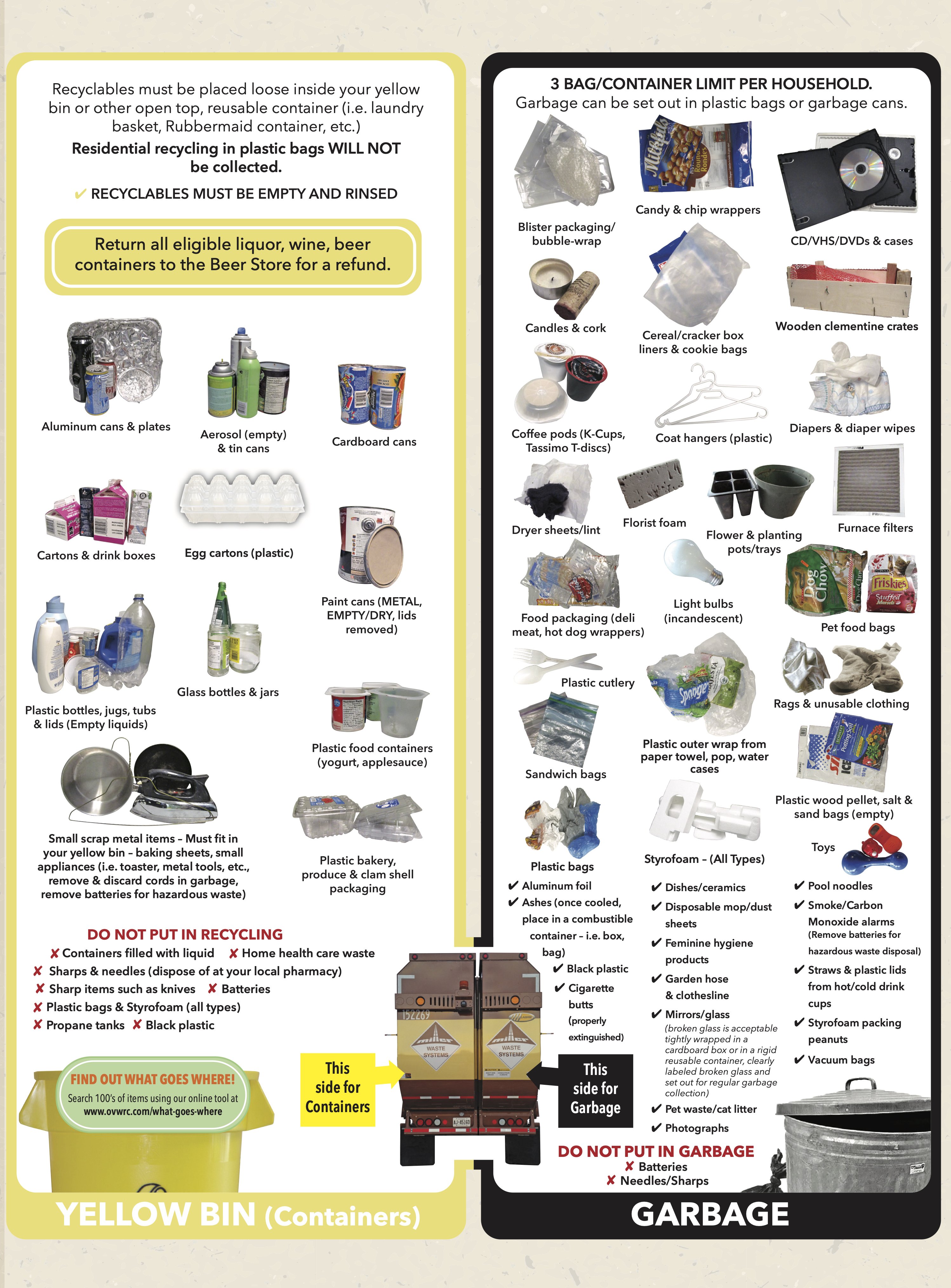 See the collection schedule for more details
Large item collection
Collection occurs on your collect day during the week specified on your collection schedule. Items are to be placed curbside no earlier than Sunday of the large item collection week (May 31st and September 13th)
Scrap metal and non-freon appliances, freon appliance, and electronics must be placed in separate piles as they are collected separately for recycling.
Material place our in garbage bags or cardboard boxes or small items will not be collected.
Remove all fluids, gasoline, and batteries from items (ie. lawn mower)
Material must be manageable by two (2) people and cannot exceed 80 lbs (36 kg), 27ft3 (0.76 m3) or 6 ft (1.8 m)
Electronic waste (e-waste) & hazardous or special waste (HSW)
These items are accepted year round at the Ottawa Valley Waste Recover Centre during regular operating hours or at an Environmental Day (no charge).
Learn more about hazardous waste
Upcoming Environmental Days
Please note that upcoming Environmental Days have been cancelled.
Blue boxes, green carts, yellow bins
Blue boxes, green carts and yellow bins are available for purchase from our Municipal office. They are available for purchase during regular business hours, Monday to Friday, 8:30 am to 4:00 pm.
Where urban amenities meet outdoor rural fun.
LV is home to easy comfortable living.