The Township of Laurentian Valley has two community gardens that provide opportunities for people to connect, learn, and enjoy a healthy outdoor activity. Community gardens offer the space to grow produce that one may otherwise not have access to, increasing availability to fresh food to those in need.
Two garden locations
The Township of Laurentian Valley has two garden site locations that are currently being developed including an area at:
Two plot sizes:
Plot fees:
$10 for 8'x12'
$20 for 12'x12'
All proceeds are being donated to the local food bank, St. Joseph's Food Bank. Subsidies will be offered to those who cannot afford the plot fees but wish to grow a garden.
Gardens will be open for planting when the weather conditions allow (usually around May long weekend). Stay tuned for the official launch!
Plots available:
There are 34 garden plots available, 18 plots at Alice and Fraser Rec Centre and 16 plots at Shady Nook Rec Centre.
A+F plot availability
Shady Nook plot availability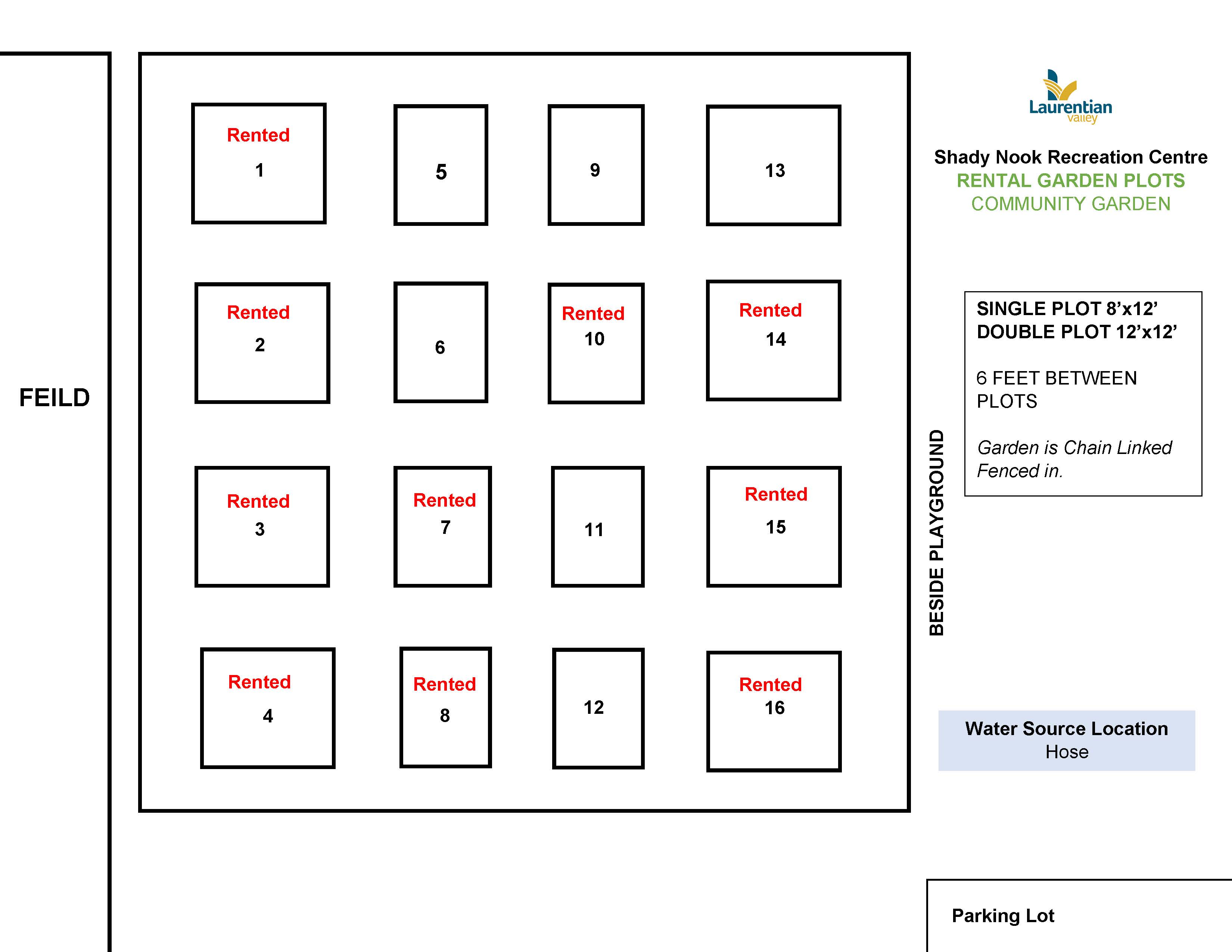 To rent a plot:
Gardeners must complete the 2023 Registration Form and sign the Community Garden Program Plot Rental Contract and drop off to the Township Office with fee at 460 Witt Road. Both documents are available for download herewith in pdf format. The Township office is open from Monday to Friday from 8:30 am to 4:00pm. You may also leave documents with fee in the mail slot after hours (cash or cheque accepted, debit available for in-person drop off during office hours).
LV Community Gardens
In 2020 the Province of Ontario has re-opened community gardens and declared them an "essential source of fresh food" for people, including those who are facing food insecurity, during the COVID-19 pandemic. Furthermore, through the County of Renfrew in cooperation with the Province of Ontario, the Township of Laurentian Valley secured funding to help build the two gardens as well as securing many community in-kind donations.
The 2021 and 2022 gardening seasons allowed us to donate $705 to St. Joseph's Foodbank through membership fees. The Township would like to thank all the garden members who registered for plots in the 2021 and 2022 gardening seasons!
To learn more about the gardens or to secure a garden plot please contact the Township at 613-735-6291 or at info@lvtownship.ca.
Complete your application:
Where urban amenities meet outdoor rural fun.
LV is home to easy comfortable living.