Laurentian Valley Fire Department (LVFD) has a proud tradition of helping residents and responding to emergency situations. The LVFD is a volunteer-run service.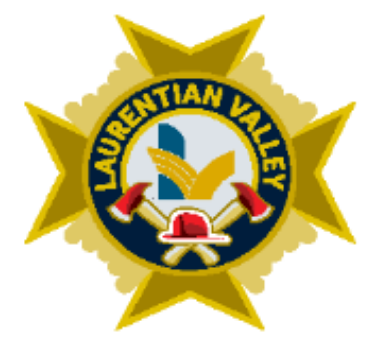 Our team consists of:
Fire Chief
Deputy Chief
5 Captains
4 Lieutenants
16 Firefighters
The department responds to an average of 120 calls per year. A 6 person shift of firefighters are on-call from 7pm Thursday to 7pm the next Thursday. These personnel must stay within a certain area during those times to respond to any calls. In the case of a larger emergency, everyone would be called out to aid in the situation. All firefighters wear a pager 24/7 and also have a backup paging system on their cell phones.
In the case of an emergency, dial 911.
For non-emergency info contact the LVFD at 613-735-1358
Meet our Fire Chief
Tim Sutcliffe is our current Fire Chief. He has served as a volunteer firefighter for the LVFD for 40 years.
Fire safety tips
Limit the use of extension cords or octopus plugs - use a power bar where ever possible
Replace any broken plug and switch plates
Have a working smoke detector on every floor (this is the Law)
Have a carbon monoxide detector on every floor with a bedroom (this is the Law)
Have a fire escape plan for your family that includes a meeting place outside of building once you have escaped
Burning permits
Don't forget to get a permit before you burn! Please review our Burning permits page for more information on this topic.
Our Fire Hall
The LVFD is located at 620 Lorne Street, Pembroke ON K8A6T5 (next to Stafford Park).
Where urban amenities meet outdoor rural fun.
LV is home to easy comfortable living.