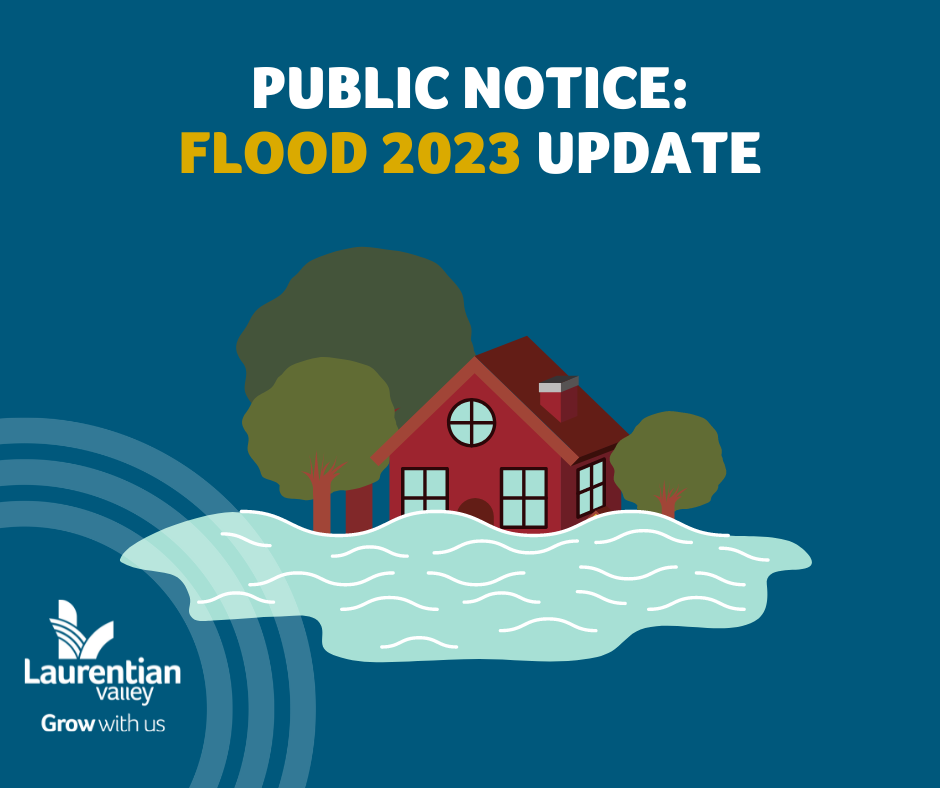 For immediate release: May 12, 2023
As the water levels on the Ottawa River are continuing to recede, the Township understands that many residents are anxious to start moving into the next phase of clean-up and debris management. While we understand the desire to move to this next step, at this time residents are urged to keep sandbag walls intact until there is no further threat of flooding, including from wave action. MNRF has issued an updated statement today advising that there is now a Flood Warning and not a Flood Watch, reinforcing that while conditions are improving we still need to remain vigilant in the short term. Residents should continue to follow the Ottawa River Regulation Planning Board website at www.ottawariver.ca for the latest information on the water level forecasts.
Green Cart Collection Disruption for Sullivan Point Road and Gull Road
For residents on Sullivan Point Road and Gull Road, as Sullivan Point Road is still closed and only open for local traffic due to the road conditions, no green cart collection will occur for those locations on Monday May 15, 2023. For cardboard and paper (blue bin) recycling, those can still be placed at the intersection of Sullivan Point Road and Gull Road for pick-up on Monday.
Debris Management Preparations
The Township's preparations are also underway for the recovery phase following the flood event. Additional messaging will be forthcoming next week related to the process for debris removal and sandbag disposal in keeping with the Township flood response level of service policy. Residents are reminded that sandbags can potentially be contaminated with harmful bacteria from failed septic systems. Bags should not be cut open or used for sandboxes, playgrounds, or other areas where direct contact with humans or animals may occur. The sand should not be disposed of in a wetland, waterway, floodplain, or other environmentally sensitive or protected area.
To assist us with our planning, if you have sandbags and large debris items on your property, we ask that you please contact the Township office to register this information.
Water Well Safety and Septic Systems After a Flood
Additional information is also available from the Renfrew County & District Health Unit (RCDHU) about what to do to ensure your well water is safe to drink after a flood, and as tips for your septic system. Information is available on their website at www.rcdhu.com You can pick up well water testing bottles from the RCDHU or from the Township Office at 460 Witt Road during regular office hours.
Red Cross Clean-up Kits
The Township has free Red Cross clean-up kits available for pick-up during regular office hours at the Township office for use by residents impacted by the flooding.
We would also like to thank all residents of Laurentian Valley for their continued patience and cooperation as some regular township services were impacted as some staff resources were being deployed to the flooding emergency. A backlog of gravel road grading and pothole filling on hard surface roads is being addressed as time and resources permit.
For more information please contact:
Lauree J. Armstrong, CEMC, Township of Laurentian Valley
613-735-6291, ext.203
larmstrong@lvtownship.ca