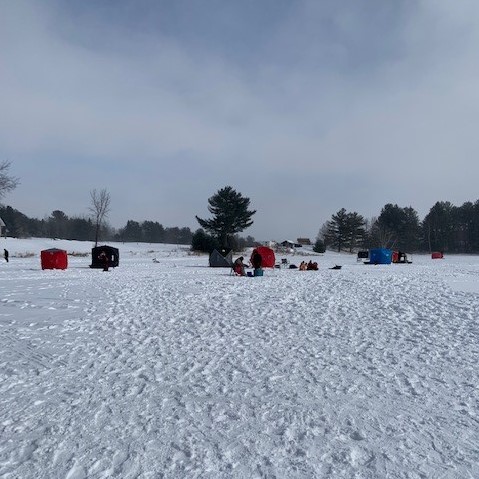 Laurentian Valley, ON - The Township of Laurentian Valley hosted its 3rd annual LV Ice Fishing Derby on February 12, 2022 from 10 am to 2 pm on Lemke Lake. Despite the frigid temperature, 65 attendees of all ages came out and braved the cold to enjoy this fun event!
The lucky winners for the day included:
Longest Fish – Hudson Coulas
2nd Longest Fish - Noah Brandt
3rd Longest Fish – Barry Kidney
4th Longest Fish – Maddie Coulas
5th Longest Fish – Molly Coulas
A very special thank you goes out to Rick Klatt for volunteering many hours for the third year in a row. Rick is a great advocate for outdoor education and fun, and we're proud to have him on board to put on this great Township event. Thank you to Councillor Pleau and volunteer Al Corrin, for helping prepare the free lunch! We appreciate the time and prep provided by Jody Mitton and Andy Molson, neighbouring residents for preparing trails and getting the lake ready for the event. Your willingness and openness to support this event is greatly appreciated. Also, a very grateful thank you to volunteers Brett Sage, Noah Ranger, Blake Andrews, Albert Lebourveau, Adam Leishman, and Jill Lavendure for helping with the set up and tear down of the event as well as greeting attendees as they arrived. Your friendly faces and helpful hands add to the success and enjoyment of the event.
A big thank you event sponsors including Reiche Law, Valley Dumpster Inc., Marcels Equipment Service & Recovery, Laurentian Valley Councillor Chris Pleau and Two Hawks Brewing Co. Another very special thank you to Centre Scolaire Catholique Jeanne-Lajoie Elementaire and CSC Jeanne-Lajoie Pavillon Secondaire for donating hot chocolate and coffee as well as the Laurentian Valley Fire Department for donating timbits enjoyed by our derby fisherman and fisherwomen.
We truly appreciate everyone's commitment to the Township and are grateful for all your support! The success of the event is very much due to the wonderful contributions from our great community. We thank everyone for following all the safety and health protocols set in place and for ensuring the event was safe and enjoyable for all. We're thrilled we were able to host this event for our community as it is important for us to continue to provide programming during this time in a safe capacity.
The Township looks forward to hosting the event again in 2023 and we hope to see you join us!
Photo Gallery: 2022 Ice Fishing Derby will appear here on the public site.